Practice That Feels Like Play - that's what
IXL.com
strives for. We recently got the opportunity to review the interactive online program IXL.com for free - we received a free one year membership in exchange for this review.
IXL.com has previously only provided math practice with extensive drills and a multitude of topics to choose from. Recently they added Language Arts to their repertoire and that is why I was so excited to get this review.
The website is very user friendly and was painless to set up an account. That right there is a plus for me because I have had the opposite experience with more than one online program.
We have access to Language Arts Grades 2, 3 and 4 (the only levels currently available) and the topics range from sentence types, helping verbs, articles, commas, homophones, prepositions, quotations, contractions and so many more! We also have access to the Math exercises available for K-12 and includes Algebra I and II and Geometry - soon it will include Pre-Calculus. Math covers everything from place value, mixed operations, geometry, properties, fractions, logical reasoning and more! In all there are over 2000 skills available for K-12 on IXL.com!
If you are in a state where it matters, or it just matters to you, IXL is aligned with Common Core Standards. The practice exercises your child gets will be based on the standards in YOUR state. At the website there is a section with all the state standards accessible by clicking on the link for any particular state. On our account, when I click on 'Standards' it takes me to a list of Texas standards for the TEKS test.
All practice exercises are easily accessed at IXL.com - your child logs in with a username and password that you create and they click on the grade level for the menu of choices to appear. After the menu of choices pops up, your child selects the topic he needs to practice. As the child answers correctly, the difficulty increases. So you can keep up with what your child is doing, IXL sends out a weekly email to the parent with a progress report.
IXL is not a "game" way to learn, it is essentially drills/exercises you'd find in a workbook, but without having to physically write. For children that don't like the act of writing/printing (like young boys) IXL provides a way to practice concepts without writing tediously in a workbook.
There were a couple of things that bothered me about IXL.com. One was that there was no instruction, only exercises. At first it put me off, but then I realized the genius in it! When your child gets bored with the usual routine or just needs some extra practice that isn't like their regular school work then IXL is a great alternative. I realized we already have instruction in our curriculum, but what we don't always have is enough practice exercises to cement new ideas. However, if your child incorrectly answers an exercise, there is a more than adequate explanation of the right answer that they can review and read.
Because of the lack of pre-practice instruction I suggest IXL as supplemental only, not as a full stand alone curriculum.
The other thing was at times it seems there are too many exercises before it finally ends and that sometimes weighed on Noodle. I think the program could be just as effective with less problems, especially if the student is answering them correctly I don't see any reason to do so many. That said, when the child answers correctly, they get a "Good Job!" or similar encouragement message popped up on the screen. Noodle loves to be told when he is doing well, so that was a nice feature.
There is a time feature too, that was causing Noodle some anxiety at times, but I figured out in the settings section I could hide the timer - so wala - no more timer stress for Noodle.
Additionally, the child earns "awards" as he masters skills - the awards steadily reveal a virtual prize. It is a cute feature, but I wouldn't think any less of the program if it wasn't a part of it. It feels a little like an attempt to make the program feel like a game, but it clearly isn't so they should just go with that.
Overall, I am perfectly pleased with IXL and it seems very academically sound. I think it is a great addition to our homeschool. I find it is great for extra practice on concepts Noodle struggles with and it is a great for him to work independently when I am not available to work with him. I also like that he can login and use it from any computer with Internet access, which means he can use it at Grandma's or while we are at the library.
Besides the progress report mentioned earlier, there are other reports parents can access on the parent section of the website - such as usage, performance and trouble spots.
Another thing that I really, really liked was the ability to work at, below or above grade level. Noodle is a 4th grader, but we aren't locked in to doing only 4th grade work. I loved that I could wander around the grade levels looking for skills to practice. There were a few exercises listed under grade 4 that he just wasn't up to doing, so I went down to third grade for more appropriate exercises that would still challenge him but not frustrate him. I think this ability to customize is my favorite feature.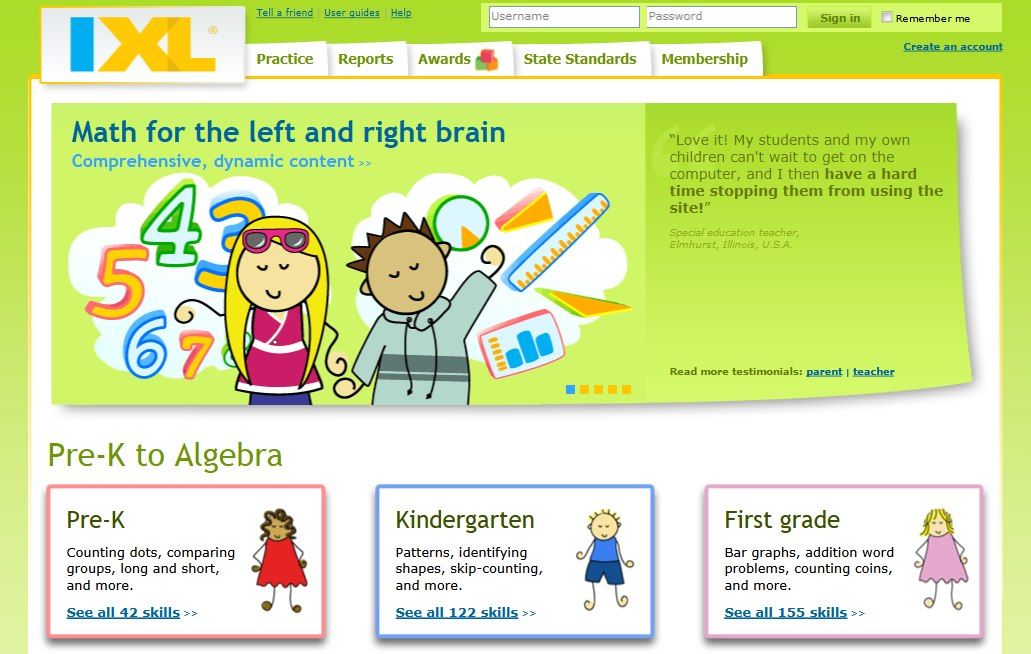 Family Memberships
for Math or Language Arts are $9.95 each per month or $15.95 a month for both. The best value is $129 a year for both subjects, for one child. Each additional child is only $2 each per month, or $20 each for a year. They accept Visa, MasterCard, Discover and American Express. For more information you can visit their
FAQ's
or email
support@ixl.com
I understand there is an iPad app as well, but we don't have an iPad and didn't get to try that out.
If you want to read about what other Schoolhouse Review Members thought about IXL.com, then click on the banner below.