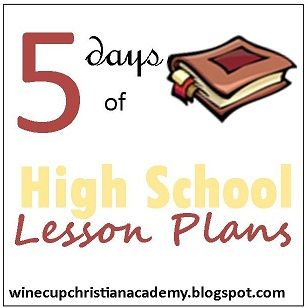 Homeschooling High School doesn't have to be hard or intimidating. I have graduated one child already, and I currently have one wrapping up 10th grade. I have only had one year of homeschooling so far, where I didn't have a high schooler. If I can do it, so can you! My goal during 5 Days of Blogging is to share with you some lesson plans and ideas you can use with your high schooler.
Over my years of homeschooling, I have tried it all. At least it seems that way. No curriculum is perfect, but I have used enough over the years to "steal" all the great ideas each one contained. I have tons of books on my shelves and access to an awesome library. This past year of being on the TOS Crew and getting to review awesome products has taught me how to be free in my homeschooling. I have been making many of my own plans using the resources I have on hand. I plan to share some of them with you over the next five days.
Poetry
Poetry is one thing my Bear does not enjoy, but it is a necessary part of a high school English program. I love it. Robert Frost was once asked, "What is poetry?" and he replied, "Poetry is the kind of thing poets write." In other words, it can't be so easily defined.
The best way to introduce poetry in high school is to hand your student a book of poetry and tell him to begin reading. After several days you can ask him to read you two works that he really enjoyed. You can start with poetry books you might have in your homeschool library or you can go to your local library and check out a stack. Some of my favorite resources are:
101 Great American Poems
100 Best Loved Poems
How to Read a Poem and Fall in Love Wtih Poetry
by Edward Hirsch
Also, the Norton Anthologies have great works of poetry. I like to pick them up at Half Price Books, used book sales and even at garage sales. Whenever you see one for cheap, pick it up!
Once your student picks a couple of poems he enjoys, and reads them aloud to you, then you read them to him. Poetry isn't something that can be scanned or read quickly like a newspaper, they are meant to be read slowly, carefully and with loving affection.
Things to tell your student about reading poems:
To start with, read the poem once straight through, with no expectations and with an open mind. Tell them to just experience the poem without worrying about difficult words or passages or trying to figure out the theme.
On the second reading, read for an exact sense of all the words and look up any unknown words in a dictionary. Be sure to dwell on any difficult parts for as long as needed.
After reading and looking up any necessary words then it is time to paraphrase. Your student can paraphrase the whole poem or just the most difficult passages. A paraphrase is not a summary, it in fact can have just as many words as the poem.
If you can find an audio of the poem being read, that can often make one think of the poem in a whole new light.
Activities/Exercises your student can do with poetry:
Memorize
Sing or "rap" the poem (this is often hilarious)
Draw the poem
Poems on the must read list and activities/exercises to go with them:
The Swing by Robert Louis Stevenson
Circle Rhymes
Underline images
Identify if the poem is about something other than childhood swinging
I Wandered Lonely as a Cloud by William Wordsworth
Find the similes
Identify pairs of verbs, adverbs or adjectives in each stanza, that have the same meaning
Psalm 100 (a psalm for giving thanks)
Find the pronouns and identify who the writer is referring to
The Raven by Edgar Allen Poe
Explain the role of the raven in the poem
Identify the different kinds of repetition
Online Resources
Poetry Daily -
www.poetrydaily.org
www.poets.org
Poetry Curriculum Resource
Progeny Press Introduction to Poetry
Tomorrow:
History
Be sure to check out all the other
5 Days of Blogging Blog Hop
with over 65 Bloggers participating!