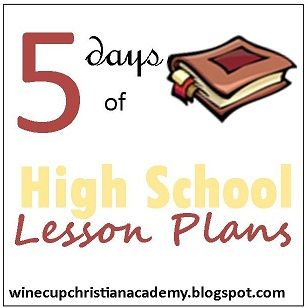 Literature
I saved the best for last. We are a household of readers, and it makes me so very happy. I am an English major so literature makes my heart sing. Nothing makes me smile faster than walking through the family room, and finding one of my boys deep in a book.
One thing that seems to get done above all else at our homeschool, is reading. Somebody is always reading something. I tend to be invested in reading multiple books at a time, and I am proud to say I have passed that trait on to Bear.
Let's get started. First, I suggest that throughout high school your student keeps a reading log. I use Homeschool Tracker to keep track of all the books Bear reads. I put EVERY book he reads on that list. I keep the reading log just in case a college ever asks for it when it comes time for applying.
Not every piece of literature needs to be analyzed, discussed or written about. It's okay to just read, process and enjoy. I do require analysis/comprehension work on 4-6 works per school year. The rest of the reading is just for pleasure or we at least discuss the book. We do several essays and dialectical journaling for those 4-6 works. You can decide which books you will require analysis and writing assignments to be done.
At the beginning of every new school year (usually August for us) we start the year out reviewing and learning new literary terms. I have three different workbooks that I like to use -
Tackling Literary Terms
,
Figuratively Speaking
, and
Literary Genres
. Also, for just a "glossary of terms" you can do a Google search for "high school literary terms pdf" and you will get several links to check out. Just find the one you like the best to save and print out for your student's binder.
There are lots of literature guides out there for doing analysis and comprehension, but these are my favorite for high school:
Now for the best part - the books!!! There are a million and one book lists out there for high school, but I am going to list MY favorites, which include books I have personally read, books that my oldest read when I was homeschooling him and books that Bear has already read or is going to read.
They are in no particular order, except the order they came to mind! Again, you will notice that there are books on this list that were on my history or government book lists. I love that they overlap and can cover more than one subject at a time.
1984 by George Orwell
Animal Farm by George Orwell
Brave New World
Hamlet by Shakespeare
Macbeth by Shakespeare
Romeo and Juliet by Shakespeare
West Side Story - I do Romeo and Juliet and West Side Story back to back, and we discuss the similarities/differences of the two stories (you can use a venn diagram). Afterwards, we watch a film adaptation of Romeo and Juliet, and for extra special torture I make my boys sit through West Side Story AND me singing, along loudly "Maria."
The Crucible by Arthur Miller
The Scarlett Letter by Nathaniel Hawthorne
The Catcher in the Rye (for mature teens)
Fahrenheit 451 by Ray Bradbury
Lord of the Flies by William Golding
Of Mice and Men by John Steinbeck
The Grapes of Wrath by John Steinbeck
East of Eden by John Steinbeck
Cannery Row by John Steinbeck (setting in Monterey, CA - one of my favorite locations in CA)
To Kill a Mockingbird
Last of the Mohicans by James Fenimore Cooper
The Count of Monte Cristo
Beowulf
Oliver Twist
Tale of Two Cities
A Christmas Carol
Frankenstein by Mary Shelley
Call of the Wild
The Great Gatsby
The Hobbit by J.R. Tolkien
Screwtape Letters by C.S. Lewis
Mere Christianity by C.S. Lewis
Adventures of Huckleberry Finn by Mark Twain
A Day No Pigs Would Die
The Red Badge of Courage
One Flew Over the Cuckoo's Nest (for mature teens)
Julius Caesar by Shakespeare
Uncle Tom's Cabin by Harriet Beecher Stowe
Dr. Jekyll and Mr. Hyde by Robert Louis Stevenson
Gulliver's Travels
Canterbury Tales by Chaucer
The Odyssey by Homer
Diary of Anne Frank
The Hiding Place
Invisible Man by Ralph Ellison
Black Like Me by John Howard Griffin
The Jungle by Upton Sinclair
Like Water for Chocolate
Little Britches
Narrative of the Life of Frederick Douglass
Cry, the Beloved Country
Roll of Thunder, Hear My Cry
The Hobbit by J.R. Tolkien
A Tree Grows in Brooklyn
The Chosen
You may (or maybe not) have noticed there are a couple of "big ones" that are noticeably absent from the list. I have never made it entirely through Moby Dick. As much as I tried, I never did do it. I also (I know as a woman it is weird) DO NOT ENJOY Jane Austen. I just skip them and spare my kids the torture. Don't judge.
Other "for fun" books I suggest to my boys:
The Outsiders by S.E. Hinton (and the 80's movie)
That Was Then, This is Now by S.E. Hinton
Tex by S.E. Hinton
Rumble Fish by S.E. Hinton
The Pigman by Paul Zindel
Lord of the Rings Triology
Unwind by Neal Shusterman (very interesting and futuristic America after another civil war - this time between pro-lifers and pro-choicers)
It doesn't always work out, but sometimes I like to do an "author study" and we spend several weeks reading multiple works by the same authors. In the past I have done this with Shakespeare, Steinbeck, and Twain.
I also like to keep on hand, books of short stories and literature Anthologies. My favorite anthologies are from Norton, but if I see one at a used book sale for cheap, I pick it up. A lot of the older "literature" texts have great comprehension questions and suggested writing assignments. One for sure to have on hand is
Complete Stories and Poems of Edgar Allen Poe
.
I also suggest having on hand at least one or two "short stories" books. I have a few public high school literature textbooks because they often have some great short stories. Also, Abeka and BJU sell full literature texts and although I don't use them for a full curriculum, the student texts again, contain great short stories and poems.
If you have a local theatre, keep your eye out for stage adaptations to classic books. Seeing a live play can always enhance the understanding of a story.
I hope you have enjoyed this week's series of 5 Days of Blogging! It has been fun for me to share some of things I do with my high schooler.