I am a big fan of
Classical Academic Press
. I love their logic series, and Noodle loves Song School Latin. When I heard about the opportunity to review God's Great Covenant New Testament 1, I jumped at it. I actually had the Old Testament portion of this curriculum on my list for Noodle for 3rd Grade. God's Great Covenant New Testament 1 is for 4th Grade and up.
This curriculum focuses on the four different aspects of Christ. There are 4 units and a total of 36 chapters, one chapter a week for a 36 week school year. Unit 1 covers Jesus, The Son of Man; Unit 2 covers Jesus, God's Servant; Unit 3 covers Jesus, the Messiah; and Unit 4 covers Jesus, the Son of God. History and religion is covered, which makes this even more appealing to me.
From the Classical Academic Press Website: Teaching the Bible to young children can be a large task, and is often divided up into many small stories. However, if you would like to teach your students the truly big picture of the Bible, and show them how God has been at work in his people since before creation, you will find God's Great Covenant to be a unique, surprising, and excellent Bible curriculum. The Bible, taught chronologically, by means of simple and direct stories, chants, and meditation on God's character define God's Great Covenant. Even many adults find themselves learning new facts, making surprising connections, and being blessed by reminder of God's faithfulness, and how he always keeps his promises. Taught from a covenantal and reformed theological perspective, and rooted in Scripture, you will find this series to be a blessing to your classroom or family.
We spent over a week going through pages 9- 32 which covered the Introduction to the curriculum, Historical and Political info of the time, Chronological information, Geographical information. a religious introduction and finally an introduction to Simon, who is the character leading us through the study. We looked up bible verses and we studies a map of Ancient Palestine. Because Noodle is only in 2nd grade, many things kind of went over his head. I, on the other hand, loved it! I couldn't wait for us to start the actual first lesson.
Unit 1 had a brief introduction and a theme of "Jesus, the Son of Man, is like us in every way, yet so very different. We learned that Jesus had many names and what some of them mean. Chapter 1 - Jesus in Eternity and Time had a theme of "The Son of Man is the eternal God who becomes man." There were scriptures listed for us to look up and read and a passage to memorize, from Matthew. (In fact by the end of the curriculum we will have memorized Matthew 1:22-23 and John 1:1-14) I loved this lesson because it introduced the four gospels and compared them. Going through the chart with Noodle, I realized I have not done a very good job of introducing Noodle to Jesus. He knew that "Jesus loves me" and that is about it!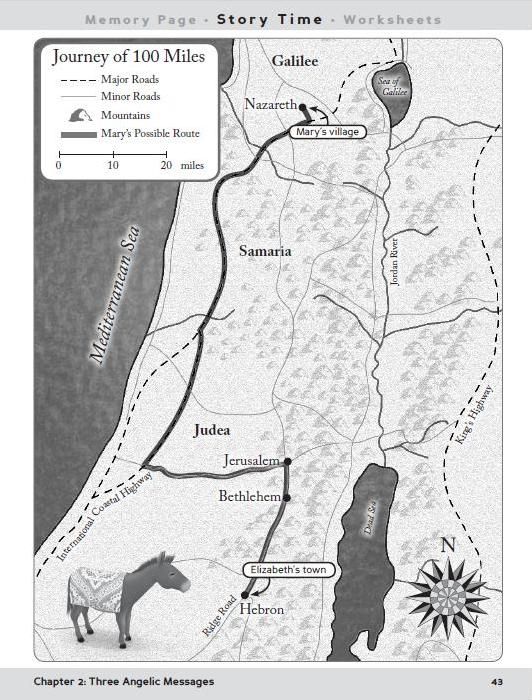 Because Noodle is a little below grade level for this study, we only completed Chapters 1 and 2 - and it took us about 4 weeks to cover them. I did the the writing on the review worksheets - We looked at them together, read them together and he told me the answers he knew and we filled it in. Having him narrate the answers worked out well, as I think making him read on his own and fill out might have frustrated him and he wouldn't have absorbed much.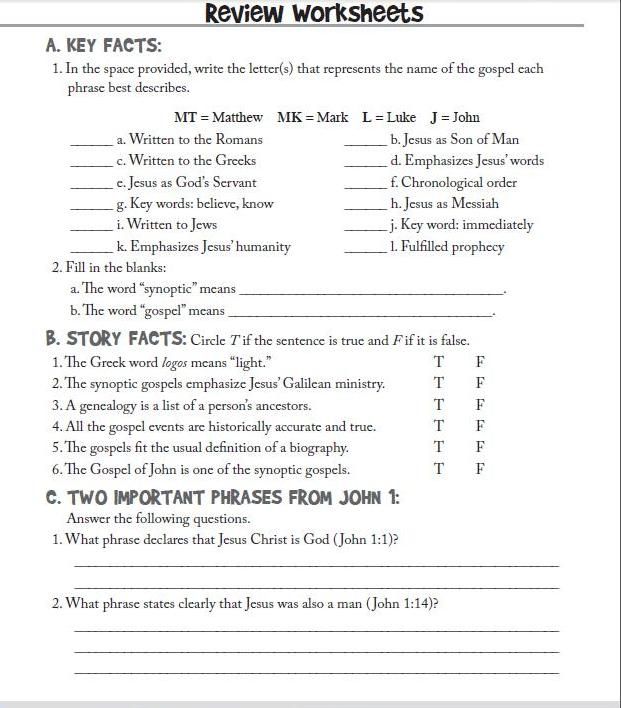 I like that every lesson opens with some sort of chart. Each lesson also points out what prophecy has been fulfilled, as well as additional related verses to look up if we want to.
I love this curriculum, and I especially like the Teacher's Guide. It has great information, making this an even more full and rich curriculum. It is organized wonderfully as well. You may not be able to tell very well from the picture below, but the TM has information underlined and numbered. You find the corresponding number in the side margin to read the additional information. The TM has every student page featured as well as all the answers to the Activity Worksheets.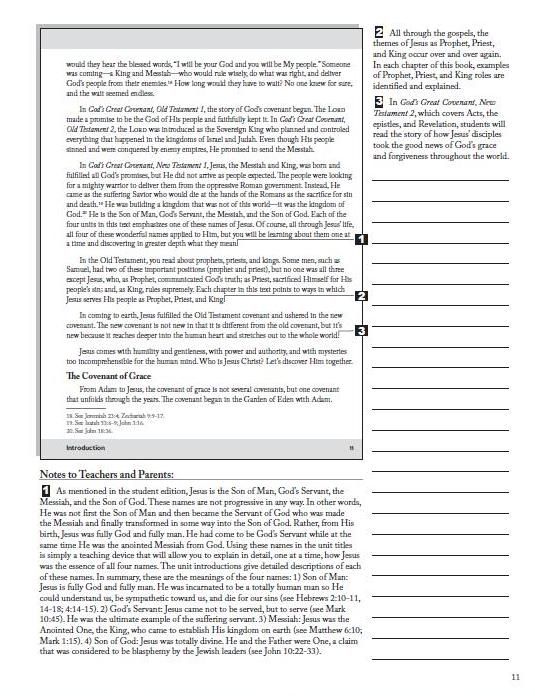 The cost of the Student Book is $26.95 and the Teacher Edition is $29.95. Additionally, there is an Audio Files download for $9.95. For the amount of information in these books, the quality of the books and the organization of the lessons, in my opinion, makes them worth every dime. Click to see a sample from the
Student Book
. Click to see a sample of the
Teacher Edition
.
Now that our review is over, I have decided that I am setting these aside for 5th grade, and I will be ordering the Old Testament 1 and 2 to cover in 3rd and 4th so we can start this awesome curriculum from the beginning, and more at Noodle's grade level.
I received a free set of God's Great Covenant as a member of the TOS Crew, in exchange for an honest review. No other compensation was received. All opinions are mine.
To see what other TOS Crew members thought of God's Great Covenant, click
HERE
.