I love History. It is my favorite homeschool subject to learn with my children. My absolute FAVORITE resource is
Tapestry of Grace
. I love it so much that I became an Affiliate! It is my spine, and where I start with all my history lesson plans.
Each week, TOG gives me a theme and book choices and assignments to coordinate with that week's theme. Sometimes I just stick to what TOG has for the week, but other times I use it as a launching point for other studies and activities. Sometimes I indulge in way more activities that I should and other weeks I just pick one or two things to keep us busy. It is truly my dream history curriculum because it is so much more than just history.
Because History is my favorite subject, there are lots of other resources out there that I love. We have used plenty over the years and here are some of my favorites:
Mystery of History
- I absolutely love these books. I will eventually incorporate them in with Tapestry of Grace, when we get to Year 1. I love the christian perspective and the writing style of Linda Hobar.
Story of the World
- I already incorporate this in TOG, and to keep it simple, TOG already has Story of the World on the Alternate Resources list. Yay!!!
Sonlight Core 5
(or whatever it is called now)- I love this study of the Eastern Hemisphere. I love it so much that I am going to put Tapestry of Grace on the backburner for one whole school year, in order to do this Core with Noodle when he gets to 5th grade. I did this Core with Super Duper and Bear. Some of Bear's all time favorite books are from this core. I really love the "Eastern Hemisphere Explorer" pages too. It is a great unit in culture and geography. It's too full and rich to do in addition to TOG, so because we are "off" in the history cycle anyway, adding this Core in for 5th grade will get Noodle back on the "right" history track in 6th grade, as far as TOG.
Wonder Maps
- Great map software for customizing maps. Historical maps, battle maps, modern maps - Wonder Maps can do it all.
Veritas Press Online Self Paced History Course
- We started this in February to go with our TOG studies. I love it! It truly is self paced. As I said, we started in February, but we are only on week 3 because we are coordinating it with our TOG - we have a year to finish so we are okay with this pace.
Netflix
- Fabulous collection of history titles available to enhance our studies, no matter what time period we are learning. From King Tut to Obama, there are educational DVD's to choose from. National Geographic has great titles, as well as A and E, PBS, History Channel, and Discovery.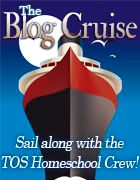 To see what other homeschoolers love to use for History -
click here
- the link will be live on April 3rd!