Reading Eggs
is an online reading program for ages 3-7 or for any beginning readers. Reading Eggs helps teach children to read and/or build their reading skills through interactive games and stories. The program starts with alphabet recognition, to phonics and then to early reader stories. There are puzzles, games, and songs to make for a fun learning experience! The lessons are short and fun, which is a plus for kids with shorter attention spans.
Noodle is already a reader and while he isn't quite devouring chapter books yet (he still prefers being read
to
) he does have the capability of reading chapter books. We had the opportunity to review Reading Eggs for free, so we did! Before we started we did the assessment test.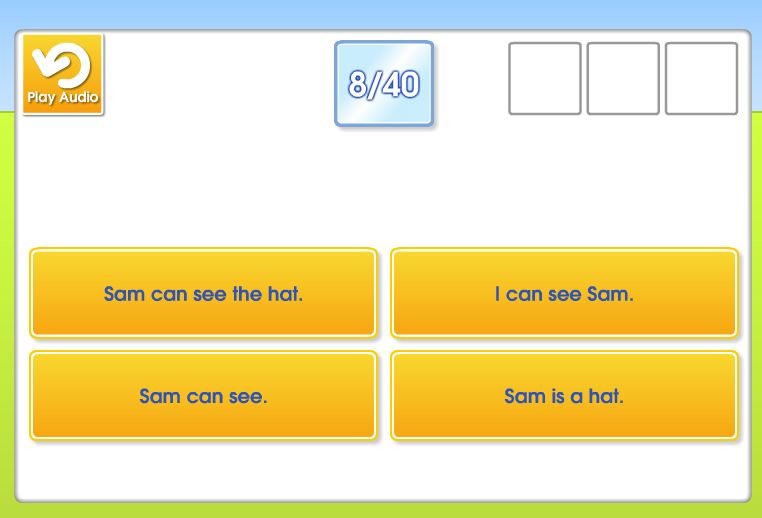 The assessment results were that he should start on Map 8 (see below). Children click on the lesson numbers (on the eggs) and work their way through cute lessons. Some lessons are clicking on sight words and other lessons are arranging words in sentences, in the proper order.
After each lesson completed on the map, there is a quiz. There are also games they get to play as they go along, by earning eggs. Noodle loves the games! There is quite a good variety too, so there is no boredom with having to play the same game over and over.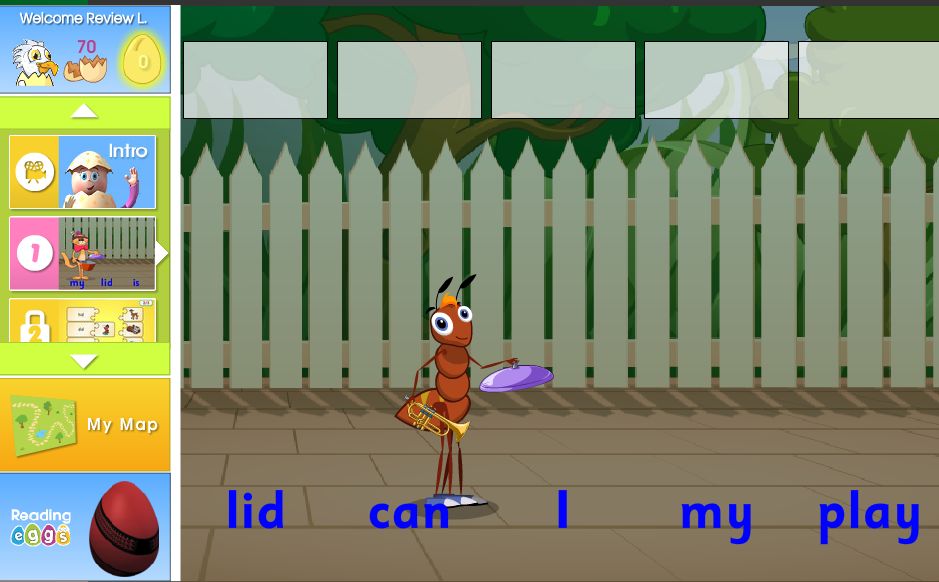 Children can progress at their own pace while building confidence in the skills they are learning. The program is very colorful, enough to hold attention, but not too much so that it is distracting. The characters are cute and engaging. Your student will be a Reading "Eggsplorer" as they work through the 100 lessons that include spelling and reading comprehension. Surprisingly, Noodle really liked the spelling tests!
Overall I found Reading Eggs really cute and effective, and in short- AMAZING. There is so much to do on Reading Eggs that I can't do it justice with this review. If I had another up and coming reader I wouldn't hesitate starting them on Reading Eggs as their first "formal" introduction to reading lessons. Further, the animation quality is AWESOME - definitely no cheesy "digitized" looking graphics. The color is beautiful and the pictures are crisp and clear.
On the minor downside - There are free activity pages that could be printed out, however we didn't use them because they were color and would use a lot of ink. Even if I printed in black and white, a lot of ink would be used because of the big blocks of color on the worksheets. Also, there is quite a bit of repetition that at times frustrated Noodle, but I do understand the value of repetition and why they do it.
Try a
Sample Lesson
or you can try a
14 Day Free Trial
to see if your student likes it. Subscriptions are available in monthly ($9.95/mo), 6 month ($49.94) or 12 month periods ($75.00). There are also book packs available to enhance the lessons if you so choose. Of all the phonics programs I have reviewed this school year, this is by far the most impressive one!! After Noodle finishes the Reading Eggs map, we are going to move on to Reading Eggspress........For older students (ages 7-13) there is Reading Eggspress for more advanced lessons on reading comprehension, vocabulary and spelling.
TOS Crew Members received only a 3 month subscription to Reading Eggs in exchange for an honest review. No other compensation was received.
If you'd like to know what other TOS Crew Members thought of Reading Eggs, click
HERE
.