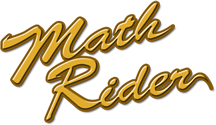 Math Rider
is a math facts computer game. If your child needs help master math facts, Math Rider is a sure fire, fun way to learn them! Memorizing math facts is a requirement in our homeschool and flashcards get boring at times, so I was thrilled when I heard about this review product! For ages 5 and up, and billed as "The Intelligent Math Facts Game" it lives up to that claim. The price for the program right now is $37, but it is going up to $47 on February 15, 2012.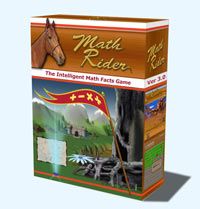 The way Math Rider works: Children go on Quests (four for each operation) through the "Mathlands" and which quest they go on depends on their math facts needs. Noodle did addition and subtraction. He loved the challenge of trying to beat his best. He did get frustrated at times due to his motor skills not being 100%, but it was GREAT for him to experience. Because the student has to be quick, his speed and the use of his fingers improved greatly. The student is riding a horse and clearing poles - each time a math question is answered correctly, the student clears the pole. They earn points each time they clear a pole. Noodle loved at the end of each "ride", finding out how many poles he cleared and how many points he had. It either gave him great satisfaction or motivated him to do better on the next ride.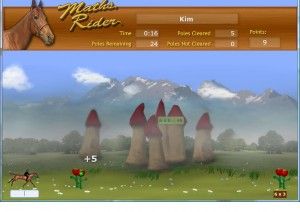 There are easy, medium and advanced levels using facts for 0-12. The game tracks what your child is doing and knows which math facts to drill your student for and adjusts question ease or difficulty levels. It will also compile statistics to make a report for you, so you can see how they are doing. The game drills for the four operations : addition, subtraction, multiplication and division and there are the three different levels for each operation (easy, medium and advanced). Each ride is only 30 questions so if your child has a short attention span he can feel accomplished by completing one ride. Noodle usually did 2 - 3 rides at a sitting and then he became tired or bored. He plays math rider about twice a week. He is looking forward to moving on to multiplication, but he has a ways to go yet.
We didn't object, but if you object to "magic" you should know that some the Quests involve magical flowers and enchanted lands. Also, if your child is sensitive, one of the quests is about saving your mother from death!
You can do a
FREE Trial
or you can purchase for $37 and have an instant download. For those of you that like to use Paypal, that is an accepted form of payment! There is a 30 Day Risk Free Guarantee too. The price is a little on the high end, however, for the price you are getting facts 0-12 for 4 different operations and could use it continually to enhance your homeschool math programs. Now that I have experienced it, I can definitively say I would purchase it for our homeschool if I had to.
MathRider can be used with Windows, Mac OSX, and Linux.
As a member of the TOS Homeschool Review Crew I received a free Math Rider game in exchange for an honest review. No other compensation was received. To find out what other homeschooling members of the TOS Crew thought of Math Rider, click
HERE
.